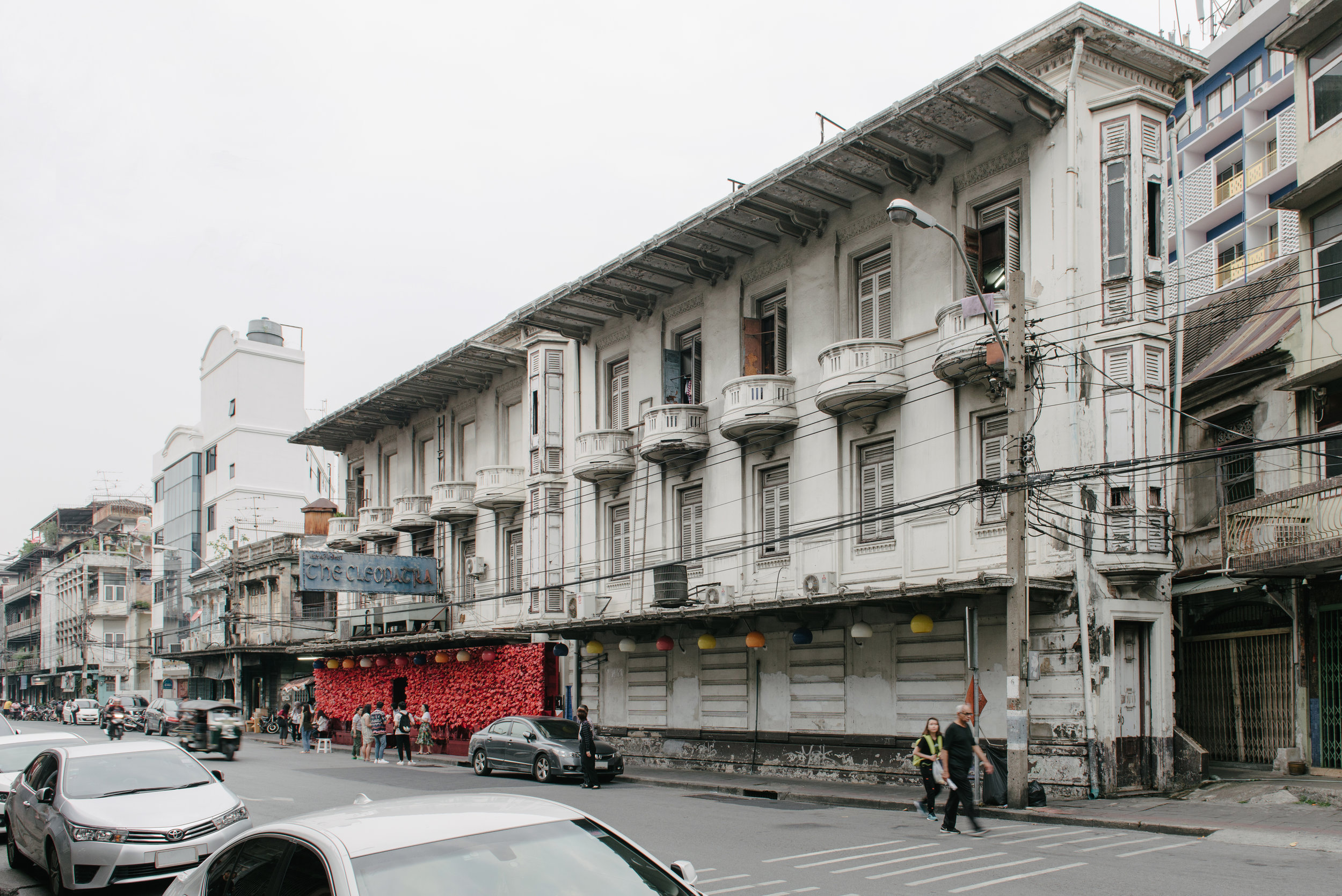 A temporal flower installation is located at Cleopatra Nightclub; 721 Mitrichitr road, opposite upcoming Soi Nana neighbourhood, in the middle of Hualumphong (Bangkok Central Station), 22 Karakadakhom Circle & Chareonkrung district. Its objective is to question a potential of abandoned architecture while emphasising controversial social issue.




The installation

The floral wrapping took half of the ground floor facade, encouraging distant viewing of the whole work and also the whole building, possibly appreciating remaining uncovered parts. Getting closer to the wall and sitting on the bench, since the installation can be accessed from the pavement, could be done to see details. This is somehow contrast to common behaviour that people might not be drawn walking pass the building front. The twisted perception is people may want to sit satirically in flamboyant setting, referencing of sex workers sit and wait for their customers.

Red Anthurium is the only type of floral material selected as it is an inauspicious plant. It is usually seen in funeral and sometimes represent male genital. Its durability, being a tropical plant, also fits for outdoor installation.

Red mirror acrylic panel is the surface material to represent an obscure transparency of the architecture, whether it shall be seen or not seen, reflecting surroundings while attracting attention. What is the role of the edifice in current context?
Background
With exact completion date and architect not known, the building was constructed around c. 1932, shortly after World War I ended and 22 Karakadakhom Circle is built to commemorate the victory of the Allies. A combination of Colonial and Art Deco architectural style can been obvious seen. Detailed ornaments and the scale of the building made itself stood out from surroundings.

According to found evidence, the area was once a famous red-light district when brothel was allowed and systematised by the regulation (c. 1908), including having lantern (usually green) and prostitute registration.

It was until 1949, the year prostitution law has been enforced in the kingdom and opening new brothel is banned; and in 1960 that Thai government answered the call of UN to suppress prostitution; things have changed. This kind of business became immoral and has been declared as a threat to the whole society. Prostitute can be captured, confined, and received correctioness.

Until now, Cleopatra is still operating as Ab Ob Nuad (massage and bathing parlour) with current law allows, prostitution in such establishment is illegal anyway.

Approx. 150,000 - 200,000 sex workers is estimated in Thailand (World Health Organisation) and prostitution business could comprise up to 2-14% of nation's economy (International Labour Organisation).
Acknowledgement
Cleopatra Entertainment and Nightclub Company Limited
The Treasury Department
Baan Oan Limited Partnership (Structure)

Designers
Tul Chompaisal
Vissata Duangwongsri
Sumanee Chivapong
Anuwat Mahasatta
Likhit Jiwvisesna
Peerapong Sawangsri

Communication Designers
Nichada Duangwongsri
Sarawut Jungjinakul
Noppaluk Mekprasertwanich

Photographers
Pattaradhorn Rujeraprapa
Thanat Laoharawee
Praewpailin Srisangnam