Abstract from Thailand Biennale curators

Fragments of Time is a floral site-specific installation by PHKA Studio, a floral designer based in Bangkok, Thailand. The studio is known for their public displays that use flowers and plants as a tool for storytelling. Their practice also involves an investigation of the site's history. For Thailand Biennale, PHKA revisited the urban and industrial past of Korat city during the Cold War period, studying its rapid technological advancement during that time. They created a garland installation at Kurusammanakarn in Rajamangala University of Technology Isan. This outdoor seminar hall is one of the earliest pillarless buildings in the country that could be seen as a symbol of modernity in Korat. Using traditional garland designs and color schemes PHKA developed their modern garland design from local materials. The floral arrangement is based on a metal structure and includes a zinc plate onto which a map of the city is stenciled. The installation could be seen as a tribute to modern history and as a prayer to the future of the city. Looking into the sky, one could see Korat's bright future.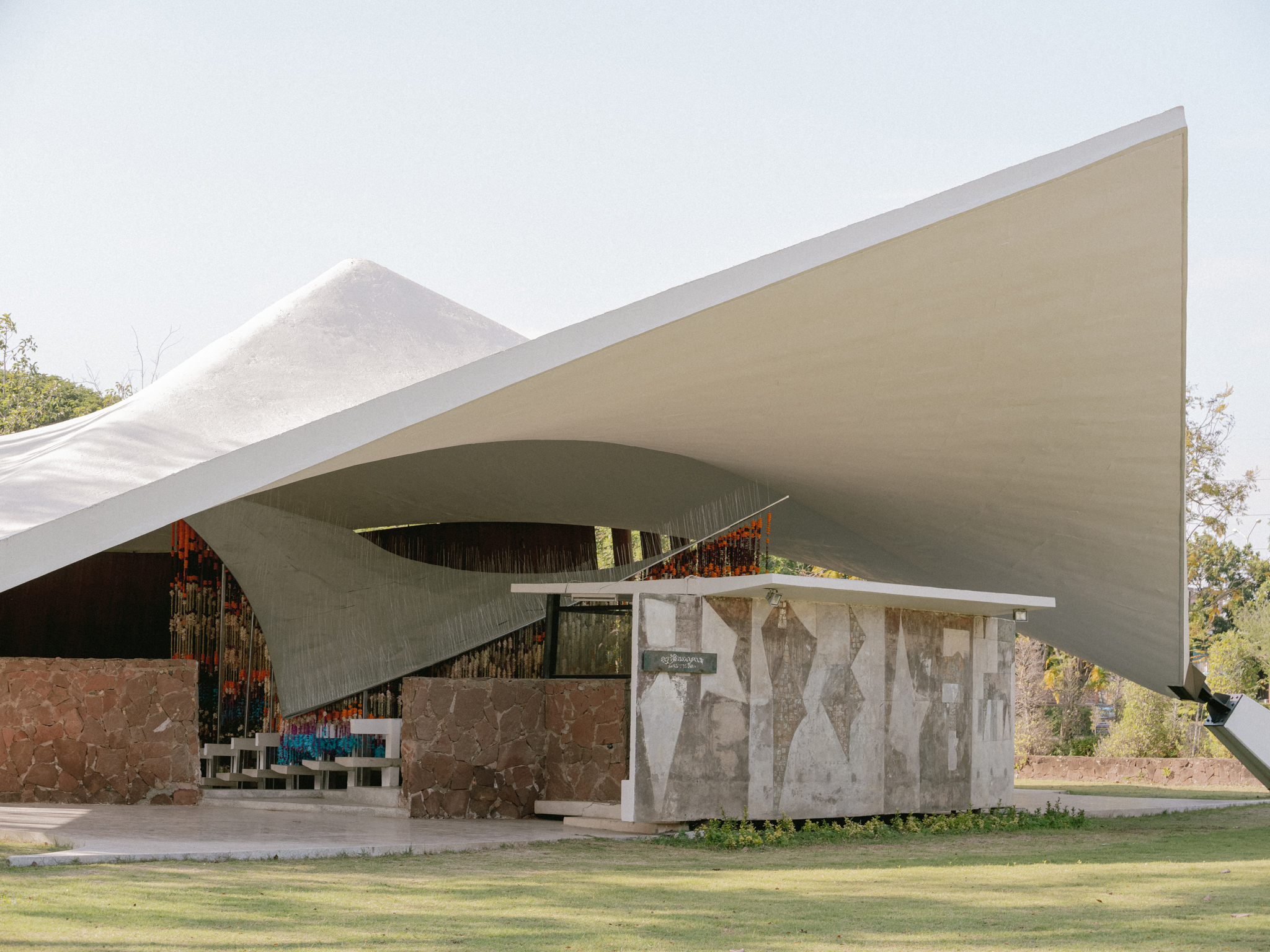 Background

Over a decade during Indochina War saw Korat occupied and heavily influenced by US, Korat, once an ancient stronghold, became a modern city after railroads connected with Bangkok and US bases settled. These totally altered what the preceding community.

Urbanised with new facilities and infrastructures, opportunities rose as business bloomed to support an influx of both foreign and domestic immigrants. However, without any long term strategic planning for Korat, the province itself was more like a property leased out or became a de facto colonised area of Thailand. Natural features and resources were utilised in the wake of increased population. Not long after US troops left, we saw Korat in an almost freezing state since. The excitement was over. Architectural remnants remains across the cityscape with unregulated development were implemented in later years. This stronghold is kind of spiritlessly empty.

Fragility of city and shifts

Drought, climate change, disaster, poverty, and mass killing are only a few among countless problems various cities facing nowadays; while a world-changing pandemic obviously illustrates how fragile these cities are. Their people could not cope with such threats with any kind of established urban infrastructures. Our fabricated spaces are nothing but cells and blocks we confined in. Smaller towns, however, possibly have more sustainability and resilience to deal with those menaces. Reduction of urbanisation on megacities come a lower cost, higher individual dependence, and also promote greater community that lost in larger cities. A reconnection between human-human and human-nature could be strengthened.

In an unprecedented future that lies ahead of Korat, megaprojects have been planned to introduce a new reality in the next decade. These hierarchical and seems-to-be long-lasting development may once again neglect the relationship between tiny individuals, but changes made from down below actually shall not be ignored. Permanent or temporal, big or small, we are to immerse ourselves in these shifts.




The installation

The swaying silver sheet, metaphorizing Korat cityscape (ii), was digitally punched by pattern of city's figure and ground (i). Made of zinc, one of the very common material seen in temporary shelter for construction workers, it also depicts the ambiguity of temporary and permanence. And through the punched holes, malai (garland) needles penetrated in upward direction, as if they are ephemeral shifts people made to the city.




All the components in malai string, comprising of local flowers found in the Korat market, have been selected with different deterioration rates, from the weak champaka to the longlasting globe amaranth. Changes to the condition can be expected during the 3 months exhibition period. Added to the floral selection are two gimmicks, folded banana leaf and light blue sheer fabric. The first is a resting element used in malai threading while the latter represents PVC tube, another common materials seen in Thai flower market.




Thailand Biennale
Yuko Hasegawa - Curator
Vipash Purichanont - Co-curator
Seiha Kurosawa - Co-curator
Tawatchai Somkong - Co-curator

Designers / Florists
Tul Chompaisal
Vissata Duangwongsri
Siraphatsorn Chumnongwongse
Nattakarn Tanataweetum
Thienchai Kraising
Nattamon Tepwatcharakarun
Natthorn Tansurat
Ploynapas Rojrujaporn
Likhit Jiwvisesna



Structure Engineers
Watcharis Chavalitkul
Korakot Loudsirimongkol

Photographer
Napat Pattrayanond